Meeting held on the night of the 18th June 2004
At the Log Cabin, The Woodland Education Centre, Offwell, Devon, SW England
2 Skinner Traps, 1Actinic, from 22:00 to 02:00 hrs
Weather: Mixed, cloudy, some occasional light drizzle. Minimum temp 110C
Recorders: Neil Croton, Barbara Corker, Alan Crofts, Brian Sutton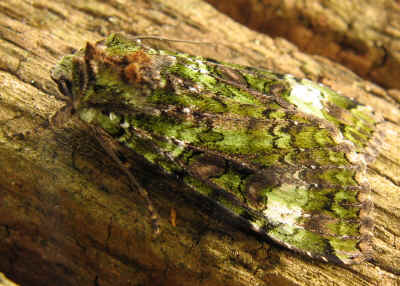 Summary
A Total of 48 species and 160 individuals recorded
Only 5 of the species recorded in this June meeting were also recorded in May.
The cabin is surrounded by different types of broadleaf and coniferous woodland. More here
It would be logical to assume that trees would be the main foodplants of the moths trapped in the vicinity of the cabin. However, 42% of the moths trapped had caterpillars which feed solely on herbaceous plants and grasses, 27% on broadleaved trees and only 4% on coniferous trees.
This illustrates the importance of the wildflower and grassy areas around the cabin. The fact that so few of the moth species feed exclusively on the conifers is a reflection of the fact that all of the conifers in the immediate vicinity of the cabin are imported, non-native species.
Best Finds:
* Waved Carpet (Hydrelia sylvata)

A National Biodiversity Action Plan species



** Brindled White-spot (Parectropis similaria)


This rather worn specimen is a species described as 'Scarce' and 'Local' in the Devon moth listings.


Image copyright: Neil Croton

* Delicate (Mythimna vitellina)

A new moth for the Centre. This is a relatively common immigrant species in Devon. Some experts think that it is breeding in the county as well.
Most Numerous Moths:

Buff Ermine (Spilosoma luteum)

Udea olivalis - a micromoth

Mottled Beauty (Alcis repandata repandata)
Species List
organised according to caterpillar foodplant