People and Biodiversity
Is there a Future?
A Public Lecture given by Stephen Lawson
Director of the Offwell Woodland & Wildlife Trust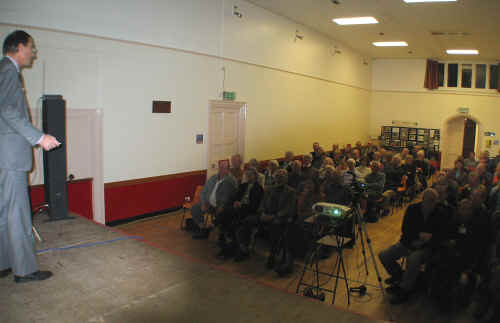 The Eighth Annual Offwell Lecture, organised by Offwell Environment Link

Supported by Epson
The public lecture entitled 'People and Biodiversity - is there a future?' was held on the 30th October 2004, in the Mackarness Hall in Honiton, Devon, SW England.
The lecture was the eighth Annual Offwell Lecture, organised by Offwell Environment Link (OEL). The objective of the Annual Offwell Lectures is to raise public awareness of global environmental issues which concern people in Britain and to spark debate. Invited speakers are people who are experts in their field, who are able to bring up to date knowledge and insights to the audience.
The lecture was given by Stephen Lawson, the Director of the Offwell Woodland & Wildlife Trust. The Trust is a conservation and education charity based in Offwell, just outside of Honiton. In addition to its local activities, the Trust also has world-wide influence through its award-winning website. The website is linked to and extensively used by people, organisations and institutions from well over 100 countries around the globe.
Stephen has a background in agriculture and has been involved with the practical conservation and management of British habitats for over 30 years.
The lecture was exceptionally wide-ranging. It drew on observations from established figures such as Malthus and Sir David Attenborough as well as research from one of Britain's longest running agricultural experiments. Topics included geology, prehistoric life on earth, present biodiversity, factors affecting biodiversity, extinction rates, the earth's life and living processes, human population dynamics, intensive agriculture and organic farming, UK land usage, environmental footprint and sustainability, export of environmental demand from the developed world, human survival needs and finally, guaranteeing biodiversity in the future.
Initially, biodiversity (i.e. the great variety of life on earth) both world-wide and in Britain, was explored. The point was made that biodiversity varies naturally world-wide, as well as over geological and 'normal' time.

The talk progressed to discuss the current alarming species extinction rates being documented in Britain and around the globe. This possible sixth major extinction event in the world's history is being driven to a great degree by habitat loss.

.

Evidence for the often quoted 'Interdependence of all life on earth'
was explored. Certain processes, such as photosynthesis, pollination and nutrient recycling, are undisputedly essential for life on earth as we know it to continue. However, the actual species performing these processes change naturally over geological time anyway. This indicates that in many cases, it is the roles species play which are important, rather than their individual characteristics.

Provided these vital life processes are maintained, then the fate of any number of individual species not directly involved in these processes appears to have little bearing on human survival.

.

Some truly alarming statistics were presented to illustrate the meteoric climb in human population levels world-wide and in Britain over the past 200 years.

Many other living species are basically losing out in the competition for space.

Ever-increasing areas of land are needed to grow food and provide housing and infrastructure for burgeoning human populations. These land uses automatically result in reductions in biodiversity.

.

Vital measures suggested to reverse or halt biodiversity losses were:

A reduction in Human populations, combined with living in ways that reduce our use of the earth's natural resources.
Farming UK agricultural land intensively, while providing wildlife habitats through proven measures such as beetle banks and conservation headlands.
EDUCATION - If there is apparently no imperative need to maintain high biodiversity in order to ensure human survival, then the only way to preserve biodiversity is to encourage people to value nature and wildlife in its own right.
A discussion period concluded the lecture.
Offwell Environment Link is a registered charity with a charitable aim of furthering public education in British countryside and wildlife. OEL is also the local community support group for the Woodland Education Centre in Offwell. The Centre is run by the Offwell Woodland & Wildlife Trust, also a registered charity.
OEL are indebted to Epson for the loan of the IT projector used in the lecture.

Read other related articles
Copyright © Offwell Woodland & Wildlife Trust 1998/9 & 2000/1/2/3/4 http://www.offwell.info
All the information including images, charts, movies and sounds is provided copyright free, only for educational use by schools, colleges and universities unless you are making a charge. If you wish to use information or any part of this site for commercial purposes or for any purpose where a charge is made then you must get permission, so make sure you contact us first. Remember, if you are not a school, college or university you must obtain permission to use any part of this website. Note that company logos are reproduced with permission and remain copyright of their respective owners.