How to Donate
Offwell Woodland & Wildlife Trust
U.K. Registered Charity No.1000198
The donation pages are created and managed by the Charities Aid Foundation (CAF), an international organisation with 75 years of experience who assist many charities throughout the UK.
At each stage of the donation process all the information you enter in the browser window is secure, as it is encrypted. A secure site is indicated by the website address which begins with https:// rather than http://. A small locked padlock symbol will also be displayed at the bottom right of your browser window. Like this:-

.

Step-by-Step Donation Guide
After reading through these instructions, click on the "Make a Donation" link at the bottom of this page. You will see a new window where you can enter how much you would like to donate and a drop-down menu of which payment card method you wish to use. All information is confidential. As this is a secure site, the address starts with https:// and the locked padlock symbol is visible at the bottom right of the browser window. When you have filled in the details, click on the "Next" link.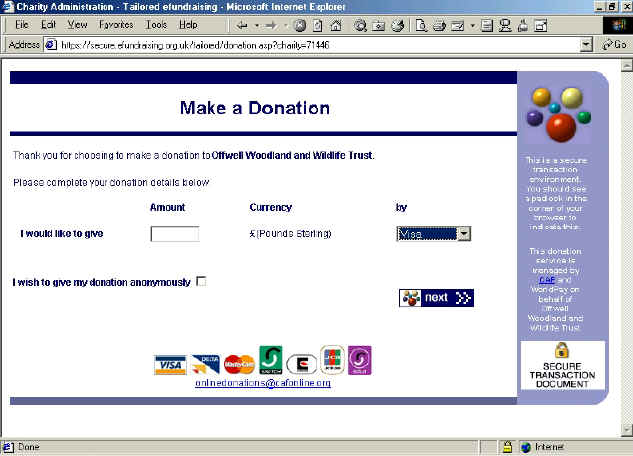 A "Gift Aid" page will then be displayed. If you pay UK Income or Capital Gains Tax, we can claim extra money from the Inland Revenue when you make a donation. There is no extra cost to yourself. Please tick the appropriate box and then click on "Next".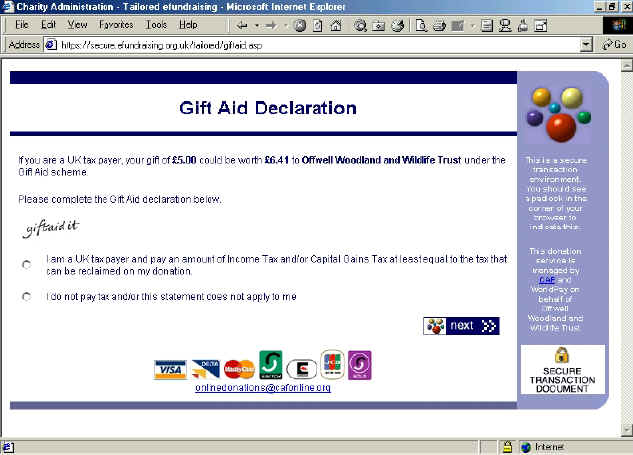 In the next box to appear, you will be asked to enter personal details such as your name, postal address and email address. Click "Next" when you have entered all the details.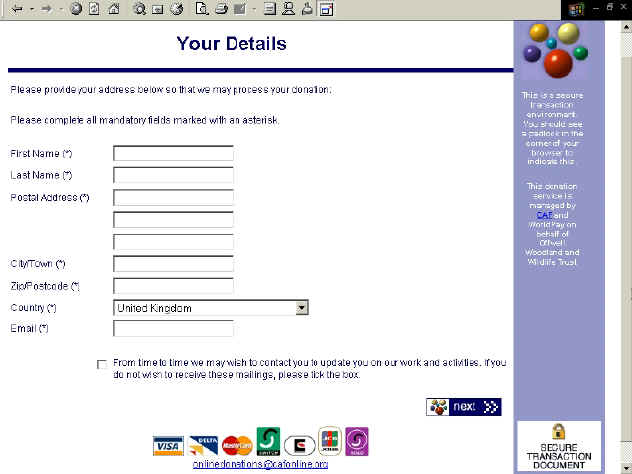 You will then be asked to enter your payment details, including card number, expiry date and the name on the card. After entering these details, click once on "Donate" and the rest of the process is automatic. If you refresh the window your card will be debited twice. After a short wait while your card is authorised, you will then see a message confirming receipt of your donation. You can save this message as a receipt by selecting "Save as" on the file menu of your browser and choosing a suitable location on your computer to store it. You can also print the receipt.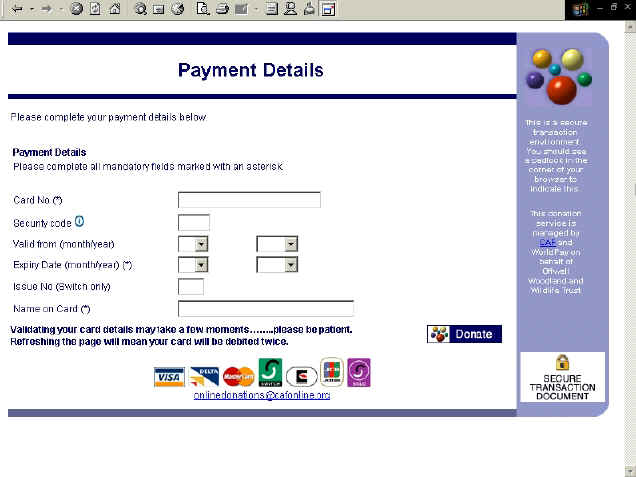 You can make your donation securely on-line, by clicking on the link above.

Thank you for helping us with our work.
Your donation will help to fund our education and conservation programmes.
If you would like to find out more about us and the work we do, click here.
Offwell Woodland & Wildlife Trust
Registered Charity No.1000198