Offwell Moth Group
at the Woodland Education Centre, Offwell, Devon, SW England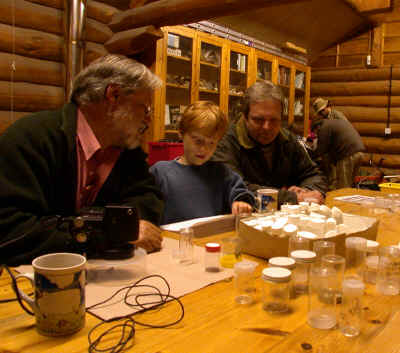 Offwell Moth Group is a club for people of all ages with an interest in moths.
These are some of Britain's most beautiful and fascinating insects.
There are approximately 1000 of the larger moth species in Britain, so there are plenty of different moths to catch and look at. (All later released unharmed of course.) Different species of moths fly throughout the year, in all seasons.
Informal social meetings, combined with light trapping sessions are held once a month from April through to October. The main aim of the Group is to interest people in moths, although finding out what has been trapped also gives interesting insights into the habitats at the Centre.
Meetings are based at the Log Cabin at the Woodland Education Centre in Offwell. Conditions are suitable for people with limited mobility. Children (over 6) are also welcome and members of the Offwell Young Rangers' Club join in with group meetings. The meetings start slightly earlier if children are coming, so they don't get to bed too late. Please let us know in advance if you are bringing children to a meeting.
The Offwell Moth Group is currently hibernating!
Meetings will start again in early Spring 2005.
If you are interested and wish to be contacted when meetings resume,
please email the Trust with your details.
Species Lists
For further information, or for directions to the Log Cabin,
please contact the Trust by email or telephone 01404 831373 / 831881
The Moth Group is a joint undertaking of the Offwell Woodland & Wildlife Trust and Offwell Environment Link, the local community group which helps to support the Woodland Education Centre.
Find out more about moths here