Centre News (3)
Previous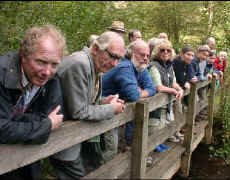 Inst of Biology Members look out for Dragonflies
The Institute of Biology, as well as A level students from Plymouth, have all visited the Centre recently and this autumn is set to be the busiest ever. Increasing the use of the Centre at this time of year was one of the key objectives of the 'Discover the Countryside' education project.
The project is funded by the Heritage Lottery Fund and is in its third and final year of operation. It has been astoundingly successful. The Trust is now receiving requests for visits and talks from a wider range of community groups from the surrounding area. The calendar is overflowing with appointments.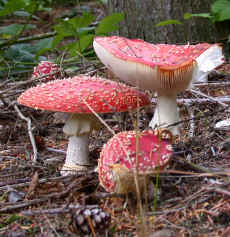 Fly Agaric

Autumn as always is fungus time! Several wonderful specimens of fungi have been seen recently on the 50 acre reserve, including a magnificent crop of Fly Agaric close to the Centre's log cabin. Their spectacular display will not unfortunately delight participants in the annual OEL organized Fungus Foray led by Jeff Benn, as the fungi have already been decimated by slugs. The Fungus Foray will be held at the Centre on the 17th November. You can find out lots more about fungi here!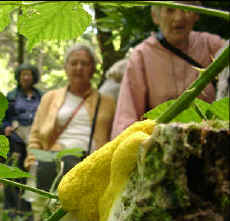 Fungi come in all shapes and sizes!
The Centre's community support group, Offwell Environment Link continues to promote and help the Centre in extremely diverse ways. They raise funds, hold events, mend pond dipping nets, help with practical tasks as well as surveys and IT. They even found time to host a VIP evening where all the food and refreshments were funded by members. Amongst the guests were local Mayors and politicians.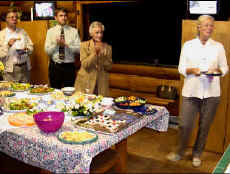 Champagne & refreshments in the log cabin