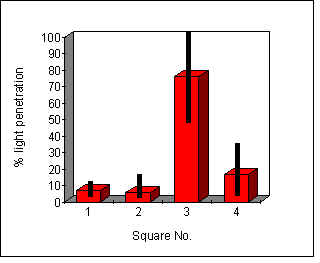 Figure 9. Mean % of light penetration
The percentage of light penetrating through the rhododendron canopy is very low. In square 1, mean light penetration was 7% and in square 2, 6% (Fig. 9).
( On a dull day, in the densest regions of the rhododendron, a torch was necessary in order to be able to see to carry out the sampling.)
Light levels vary under the rhododendron, depending on local densities of the leaf canopy. The measured range of light penetration is represented by the vertical black lines (Fig.9). The holly saplings in square 1 must be in an area with slightly higher local light levels in order for them to survive in such low light conditions. Holly is an understory tree and so is adapted to lower light levels. No other tree seedlings were found in the area.