The Woodland Education Centre
Heathland Project Report
Introduction List of Summary Points Summary
Management Details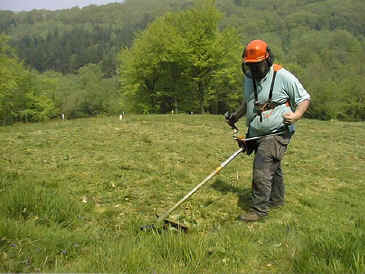 In sections 1,3 and 8, brushcutting (to control the growth of tree seedlings, grasses and gorse) takes place in the autumn. This involves levelling plant growth down to ground level.
All cuttings are always removed to prevent them smothering the ground vegetation, or causing soil enrichment through decay.
In addition to autumn brushcutting, in section 8, undesirable plants were initially treated with Roundup, using a piece of equipment (Weed Wipe) which allows specific plants to be targeted. This included plants such as foxgloves, or anything likely to compete with the heather, or block out light to the ground layer. Grasses were not included in this control because it is difficult to target the grass without also affecting any heather present using this method. Roundup has not been used subsequently, because there has been no need. Should the need arise, then this control may be used again.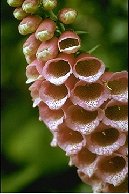 left: foxgloves on the project site were treated with Roundup using a spot applicator (weed wipe). If allowed to grow, tall foxgloves would block out the light to the heathland plants at ground level.
Sections 2, 4 and 7 have a similar regime, except that in this instance, brushcutting takes place in the spring. In section 7, in addition to brushcutting, Kerb granules (which act specifically against grasses) were administered initially. This was to control regenerating woodland grasses and prevent them from becoming too dominant. Garlon was also used initially in section 7 to control gorse. The gorse was spot-sprayed at a time when it was actively growing.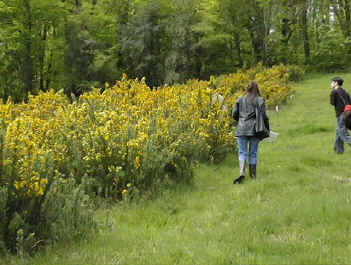 left: the control strip section 5 (on the left) and section 6 of the project site.
Section 5 has been left untouched to act as a control strip, while in section 6 brushcutting takes place three times a year, in spring, summer and autumn. In section 9, plants likely to compete with heath species are controlled both with Roundup ( Weed Wiped ) and by hand-weeding when resources allow.
Heathland Restoration Project Report

Other Lowland Heaths in East Devon