The Woodland Education Centre
Heathland Project Report Report Introduction Contents Summary

The Effects of Management - Brushcutting

contd...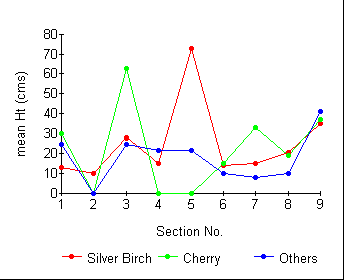 Tree seedling heights 1996 - 1998
Height of the Silver Birch is greatest in section 5. Its height in section 9, the other uncut area is less than half that in the control (Figure above). This is possibly due to competition with Cherry which is most abundant in this area (Figure) . Cherry often reaches greater heights than the Birch in the areas which are cut (Figure above). It must therefore regenerate more quickly and may have a competitive edge in the areas which are brushcut.
Other tree species now have a significant presence only in the control section ( Figure below). Initially, they were most abundant in the sections (1,2 8,9) bordering on the neighbouring woodland ( Figure below) because this is the source of the tree seedlings. They now have a very low % cover in all sections but the control section as a result of brush cutting.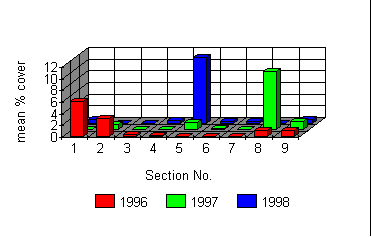 Distribution of minor tree species 1996 - 1998
Continue to the indirect effects of brushcutting on St John's Wort

Heathland Restoration Project Report



Other Lowland Heaths in East Devon