Soil Characteristics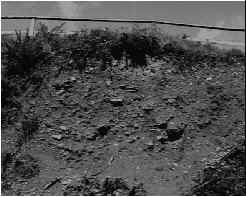 The substrate on the project site is composed of a thin topsoil overlying greensand, which in some areas is completely exposed and lacking in topsoil.
Soil pH measurements carried out in 1997 varied from 4.0 - 5.0 across the area.
Section

Number

1

2

3

4

5

6

7

8

9

pH

value

4.0

4.4

4.6

5.0

4.8

4.4

4.3

4.4

4.0
Soil pH levels across the site
(We are indebted to Mr. M. Wallwork of Exeter College, Exeter, Devon, for the soil pH values quoted.)
Acid soils (in the ecological sense - all soils with a pH below 7 are technically acid) have pH values of below 3.8. Leaching of soils by rainwater tends to increase soil acidity by removing alkaline compounds in the upper layers. It is likely that leaching effects will in time, reduce the pH values of the soil on the site to more acidic levels.
Heathland Restoration Project Report

Other Lowland Heaths in East Devon